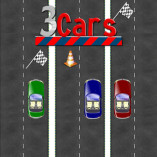 Three Cars
Three Cars is a challenging racing game with very special gameplay and high difficulty when you control three cars running on the highway at the same time. Your main goal in this game is to control three cars at the same time avoiding obstacles on the road and going as far as possible. Along the way, you will encounter many different obstacles, so focus on observing and reacting quickly to avoid all obstacles. If one of the three cars collides with the obstacles on the road then the game will be over and you will have to start the game again. Be very calm and skillfully control the cars to go as far as possible. Good luck.
In addition, if you want to participate in many other exciting racing games, you can try: Car Stunts X, Traffic Racer,... Join today
How To Play Three Cars
The green car: press the D key.
The blue car: press the A key.
The red car: press the S key.