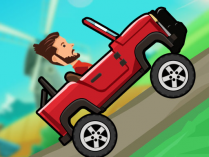 Hill Climber
Hill Climber is the first part of the Hill Climber game series. In this part, your challenge will be to control a car through the bumpy roads that are difficult to navigate. You need Control your speed and drive safely to the finish line. If you find it interesting, don't miss the sequel, called Hill Climb Racing 2. Have fun playing!
How To Play Hill Climber
If you play on the computer, press D to increase speed, A to slow down, and SPACE to jump to avoid obstacles.
If you play on a phone, touch the buttons on the screen to control the car.