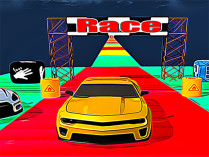 Car Stunts X
Car Stunts X is a brand new car driving simulation game on our website in which you will have to drive to conquer the high-speed tracks. Your goal in this game is to drive as far as you can on colorful racing tracks in the context of outer space at extremely dangerous heights. You will have to balance the car and control it to go as far as possible. Do not let your car lose control and plunge into the abyss, or you will have to start the game again. The game is set in realistic 3D space in the context of outer space, something unprecedented in any driving simulation game. This is a very special thing about this game. Join the game now and conquer the high-speed races with your car. Good luck.
In addition, you can participate in many exciting racing games such as Trial Bike Epic Stunts, Offroad Masters Challenge,... Join today and experience many exciting features in each game.
How To Play Car Stunts X
Use the WASD keys to drive the big car to conquer. Do not race colorfully high in the sky.