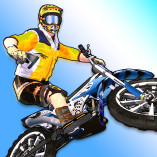 Trial Bike Epic Stunts
Trial Bike Epic Stunts is an adventurous off-road driving game. Your goal is to get your bike to the finish line safely. You will control players and vehicles through dangerous mountains and exciting factory locations, making sure to follow the rules of the game. The game has two modes: mission and skill, where you overcome various dangerous situations. If you love it, you can join some good games like Hill Climber, Moto X3M 4 Winter,...Wish you a happy and safe driving!
How To Play Trial Bike Epic Stunts
Use the following keys on the keyboard to control
WASD or arrow keys down, left, and right to drive

Press SPACEBAR to perform aerial jumps.