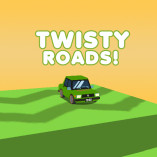 Twisty Roads!
Twisty Roads! is a driving game that conquers zigzag racing roads with an attractive 3D configuration that attracts you from the first time you play. Your goal is to conquer the racetrack and collect for yourself a lot of coins scattered on the roads. Collect as many coins as you can so you can upgrade your vehicles. Avoid falling into the road or crashing into a tree, or you will have to start the game again. How long will you control your car on zigzag roads? Join now and show us your racing driving skills! In addition, if you love racing games, you can join some interesting games on our website, such as Drift 3, Drift Boss,... Have fun!
How To Play Twisty Roads!
Use the left and right arrow keys to control the car and conquer each road in this game.