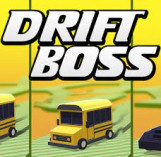 Drift Boss
If you are a lover of speed racing, do not ignore the game Drift Boss. In this game, you will drive through endless twists and turns. You have to react quickly to avoid falling off the cliff. Be careful with complicated curves and twists. Your score is estimated based on the distance you have traveled. Therefore, try your best to go as far as possible to get the highest score possible. Timing and precision are extremely important when you play this game. Don't hesitate to join this exciting game right away. If you love it, don't forget to join some of our other similar racing games!
How To Play Drift Boss
Click to move right and release mouse to move left.