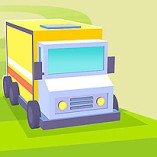 Winding Road
You are ready to experience the thrill of driving and conquering the roads with zigzag turns in the game called Winding Road. Here you will be able to freely drive your favorite car and start conquering the track with extremely adventurous curves. As you pass each turn, there will be different racing scenes, the scenery will change from peaceful mountains to bustling cityscapes.

To be able to conquer the track and reach the finish line as soon as possible, you will have to keep your balance and control the speed of the car to reach the finish line on time. If you control the speed, your car will be thrown off the track, and the game will end. You will have to start the journey to conquer the track from the beginning. So maintaining balance and speed control for the car is very important in this game. Concentration, skill, balance, acumen, and speed control will be the keys to helping you conquer the roads in this game. Join the game now and master the curves yourself, conquer the challenges, and prove yourself to be the speed champion in this off-road driving.
In addition, you can challenge yourself with attractive speed-driving games similar to Drift Boss, Drift 3,...
How To Play Winding Road
Use the A and D keys or the left and right arrow keys to control the car's movement.