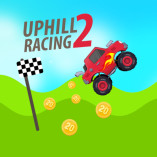 Up Hill Racing 2
Up Hill Racing 2 is a pretty funny off-road driving simulation game. In it, you will control a car carrying a boy through dangerous hilly roads. Your goal in the game is to drive safely and pass the winding, hilly roads with extremely dangerous high slopes. The game will not have a destination, so try to control the speed, keep your balance, and go as far as you can.
To win the highest score in the game, it is important for you to focus and control the acceleration and deceleration at the right time so as not to overturn the car. If the car overturns, the game will stop, and you will have to start the game again.
If you want to participate in many other exciting driving games, you can try: Hill Climb Racing, Off Road Auto Trial,... Have fun!
How To Play Up Hill Racing 2
Use the up, down, left, and right arrow keys to control the car.