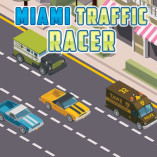 Miami Traffic Racer
Miami Traffic Racer is a fast-paced, challenging car driving game on busy streets with different lanes.You will drive a car on a busy street with five lanes. Your goal is to try to drive the car as far as possible and collect as many coins as possible. On the way, you will encounter many obstacles, including cars running on the road. In addition to collecting coins to increase the score, you must observe and react quickly to dodge other cars and avoid collisions that cause traffic jams on the road. If your driving collides with the cars on the road, the game will be over and your mission will fail.
Your focus and sharp reflexes will take you as far as possible. Don't hesitate to join now and show us your driving skills.
Also, if you want to explore more driving games with more difficult levels, you can try: Fast Madness, Race City,... Join now and don't miss out.
How To Play Miami Traffic Racer
Use the arrow keys to control the car.