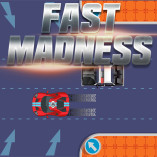 Fast Madness
Fast Madness is a fast paced racing game in which you will drive at high speed and conquer challenging tracks with lots of obstacles. The game will be a way to help you train your hand and eye reflexes. When participating in the game, you will participate in a fast-paced car race on a highway with four lanes of traffic. Your goal in this game is to drive at a fast speed, avoid obstacles and try to go as far as possible. Focusing on observation and quick reflexes to control the vehicle to avoid obstacles, not to let the vehicle collide with other vehicles on the painful road; otherwise you will fail.
Concentration and sharp reflexes will help you get the highest score in this game. How far will you go? Join the game now and show us your driving skills.
In addition, if you want to participate in more racing games, you can join some games such as Traffic Racer, Race City,... And there are many other attractive racing games on our website. we. Join and don't miss any exciting games.
How To Play Fast Madness
Use the mouse to control the direction of the vehicle.