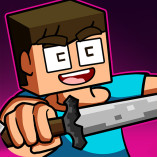 My Craft: Craft Adventure
My Craft: Craft Adventure is an extremely interesting adventure game. A boy is lost in the forest and faces many dangerous monsters. Your mission is to help the boy defeat the monsters and seek to get out of the creepy forest. The game will try to challenge agility and reflexive skills of you. So be careful when joining the game! Join the game right away and help the boy escape from the forest. In addition, you can explore some adventure games similar to: Foxy Land, Artic Adventure, ... Have fun playing!
How To Play My Craft: Craft Adventure
Use the following keys on the keyboard to control
Use the left and right arrow keys to move the boy.

Arrow keys and insertion keys to dance and attack the beast

Also, please put yourself with as many coins as possible. It will help you improve your points total and unlock many attractive gifts.