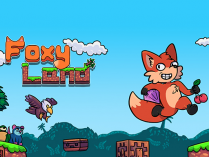 Foxy Land
Foxy Land is an exciting rescue game where you rescue a girl kidnapped by an evil eagle. You will transform into a fox, go through the dangerous forest to save the girl. On the way to rescue the girl, you have to collect diamonds and berries to power up to successfully rescue her. Alarm. There are many animals in the forest; Escape from traps and enemies. In addition, you can also join other similar games such as Santa T-Rex Run, Solitaire Classic,...
How To Play Foxy Land
Use the following keys on the keyboard to control
Press the W, A, and D keys to move; press the spacebar to jump.