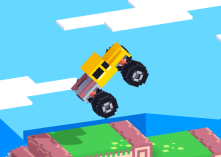 Artic Adventure
Are you ready for arctic adventure with a game called Artic Adventure? The game is the sequel to the long-running adventures of Drive Mad. In this part, you will drive a car with a character on it to explore the cold, arctic world. On the way, you will encounter difficult obstacles such as blizzards, giant snowballs,... requires you to firmly grasp the steering wheel to overcome them. Otherwise, you will fall over the cliff or overturn the vehicle. If so, the game will be over, and you will have to start the adventure from the beginning. Don't hesitate to start the adventure right away. I wish you exciting adventures.
How To Play Artic Adventure
Use the mouse or the following keys on the keyboard to control:
Proceed by pressing W, D, X, or Up Arrow, Right Arrow, and Click.
backward, press the S, A, Z, or Down Arrow and Left Arrow keys.
I wish you safe driving.