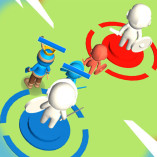 Tower Attack War 3D
Tower Attack War 3D is an extremely attractive territory defense fighting game. In this game, you will participate in a fierce battle with red-stick people. To win, you must summon more soldiers to defend your tower and attack your opponent's tower to expand your own territory. Your enemy will be the red stickman, and you will be the blue team. You must attack and destroy your opponent's tower to conquer the whole territory. Whoever destroys the opponent's tower first wins. Remember to upgrade your soldiers and enhance their fighting abilities. Let's see who can destroy the other side's tower first. Join the game now and become the most powerful territory ruler on the planet. Good luck!
How To Play Tower Attack War 3D
Use the mouse to control your stickman to move and collect bricks at the base to summon a lot of soldiers to defeat the opponent.