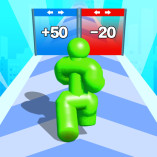 Tall Man Evolution
Tall Man Evolution is a fun and unending action game. You will control the stickman figure as he runs to the end to face the behemoth. To defeat the behemoth at the end of the road, you must direct your yellow stickman figure to sprint quickly. There will be obstacles and height choices in the run. You can select the numbers with the highest potential height, and if you make it to the end of the road, you will gather a large amount of diamonds and vanquish the monster. You will also have to avoid and hop over the obstacles in your path. A lot of points can be added, subtracted, split, and so on, so choose your numbers wisely on the track. you! If you enjoy similar endless running games, you may also play Free Flow, Tallman Dunk Rush, and other fun games. Have a good time!
How To Play Tall Man Evolution
Stickman can be moved left and right by using the left mouse click and drag.