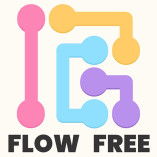 Free Flow
Free Flow is a puzzle game that connects colorful blocks. Your task in the game is to match all the colors and cover the whole board to solve each puzzle. The pipes must not break or intersect. You will be limited in time to match the color blocks together. So be quick and quick to connect colored blocks of the same color together as quickly as possible. If you slow down, the time will end, which means the game will stop, so keep an eye on the clock! Every time you successfully match all the blocks of the same color, the system will automatically take you to the next level. How many levels will you pass in this game? Challenge yourself now by participating in this fascinating game! Good luck!
How To Play Free Flow
If you play on mobile: Touch the screen and swipe to play.
If you play on a computer, use the left mouse to connect the colored blocks together.