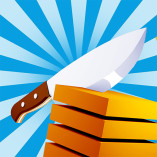 Slice it All
Slice It All is the Slice Master game. Your goal is to use the knife to cut through all the obstacles on the way to the finish line. After each finish, you will be moved to the next level, which is harder than the previous levels. Tap to flip your knife and neatly slice the various obstacles in your path into two equal halves! You will be equipped with a super-sharp knife, and you just need to flip the knife to cut everything that stands in your way to the finish line. Flip and hold the knife in the air at the right time to cut all the obstacles perfectly. Your score will be higher when you make your slices the most perfect. Don't hesitate to join this exciting game right away. If you love it, you can join some similar games like Ninja Hands, Roller Baller,... Have fun!
How To Play Slice it All
Left click repeatedly to flip the knife. Cut everything perfectly.