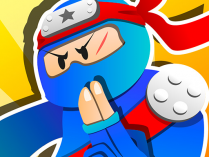 Ninja Hands
Become a real Ninja with the game Ninja Hands. You will use the power of hand poses to save the girls and defeat the bad guys! On the way to rescue the kidnapped girl, you have to fight the evil kidnappers. They have weapons, and you can just use a combination of different hand positions to take down all the enemies along the way. mine! Join the game to defeat the enemy and rescue the girl quickly. Have fun playing!
How To Play Ninja Hands
QWER stands for launch spells.
T or Y denotes a specific spell.
Hold down the left mouse button to move the cursor.
Use in-game buttons by left-clicking.