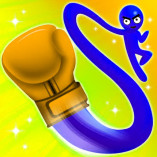 Rocket Punch
Rocket Punch is a game that uses your power by throwing rocket fists to knock down all the opponents that stand in your way. You will control a blue stickman throwing powerful fists to take down red stickman opponents and complete each level in the game. You will have 3 punches. If all 3 punches are gone and you have not defeated the opponent, you will lose and you will have to start this game again.
To defeat your opponent quickly, you need to control the speed and path of your fists accurately. Use all your power to destroy the opponent in the best way possible; try to get 3 stars in each level. This will be the place to help you practice your correct boxing skills to help you relieve stress. Don't hesitate to join this exciting boxing game right away. I hope this game will bring you a lot of fun.
How To Play Rocket Punch
Use the mouse to draw the path of the fist correctly, take down the red stickman, and complete each level in the game.