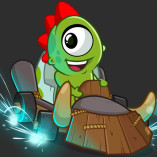 Kizi Kart
Are you ready to join the car-pain contest with the game Kizi Kart? You will play the characters in the game to participate in an exciting car race. On the way to pain, you will avoid obstacles, collect yourself a lot of coins to increase your score, overcome opponents quickly to the finish line and win. You can play as Kizi, Kissi, Spike, Tito, or Gary, each with their own set of moves and special abilities that you can use on the track. React quickly and use your excellent driving skills to win. The game is designed with cute graphics, lovely characters, and challenging tracks! What are you waiting for to join now?
How To Play Kizi Kart
Move your kart with the arrow buttons or use WASD on your keyboard.