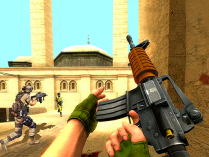 FPS Assault Shooter
FPS Assault Shooter is an intense shooting game. This is a game that combines guns and war. If you love intense shooters, then this is the game for you. In this game, you will choose weapons to attack and fight with your enemies. You can also upgrade your weapons to become an excellent shooter in this game. And don't forget to join some other good and attractive shooting games. Bubble Shooter Soccer 2, Plants VS Zombies,...
How To Play FPS Assault Shooter
To move, use the arrow or WASD keys.

Shoot with the left mouse button.

Right-click to zoom

Press the G key to throw grenades.

Press H to change weapons.

To run, press the shift key.

To jump, press the space bar.

To lock/unlock the cursor, press the L key.