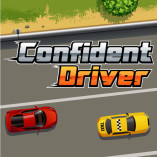 Confident Driver
Confident Driver is an exciting racing game in which you will drive your car on a highway with many lanes and vehicles participating in traffic. The game will be a way for you to test your incredible reflexes! Your goal in this game is to control the car on the highway and avoid obstacles; other cars and trucks will appear on the lanes. Choose the right lane and react promptly to avoid obstacles and safely reach the finish line. Complete each level in the game. At each level, there will be a distance route that you must follow. You will have to go all the way through safe obstacles to move to the next level. The game speed through each level will be faster, so you need to be highly concentrated and have quick reflexes to avoid causing unnecessary accidents. Now, make sure the driver steps on the gas pedal and starts racing on the highway.
If you love racing games and want to explore and conquer more difficult racing tracks, you can try: Three Cars, Miami Traffic Racer,... Join today!
How To Play Confident Driver
Use the mouse to control the car and choose appropriate and safe travel lanes.