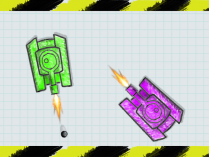 War Of Tanks Paper Note
War of Tanks Paper Note is an entertaining war game with options for 1 or 2 players.
You can fight in three separate portions in the single-player mode. In each section, there are five targets that you must eliminate. The laser pass stops when each target is destroyed, allowing you to continue on to the next one. You must be cautious of tanks and men from the enemy attacking you.
There are 20 levels overall in the "2 player" option. You can pick the number of games you play, and you can compete against a friend at any level you come across. Utilize the bonuses offered at each stage to further increase the enjoyment. A wonderful time!
How To Play War Of Tanks Paper Note
For 1 player Move: WASD Fire: SPACE

For 2 player Purple Tank: Move: WASD Fire: SPACE Green Tank: Move: ARROW KEYS Fire: M