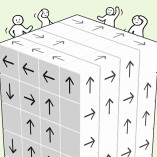 Unblock Cube 3D
Unblock Cube 3D is an extremely fun puzzle game. Your challenge is to rotate, swipe the cubes with many small squares, and make them fly. The small square blocks will only move in one direction, in the direction of the arrow. So you will swipe and make them fly away. When the blocks are gone, you will be moved to the next level. This is a game that helps you train logical thinking and reflexes. Don't hesitate to join the practice right away. Besides this game, you can participate in training your brain with the following similar games: Ball 2048!, Solitaire Mahjong Candy,... have fun!
How To Play Unblock Cube 3D
Left click and drag to make the blocks fly away.