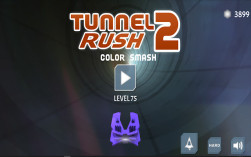 Tunnel Rush 2
Tunnel Rush 2 is endless running game at full speed with no stops. You will run through endless tunnels, along the way you will encounter many obstacles. Your task is to react quickly to avoid obstacles. If the banjva encounters an obstacle along the way, the game will be over and you will have to start over. So focus your reflexes and avoid obstacles to get the highest score possible. In addition, you can join some endless running games similar to Slope Unblocked, Run Away 3,...
How To Play Tunnel Rush 2
Use left and right arrow keys to control.