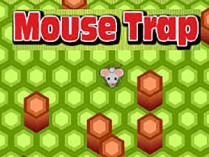 Trap The Mouse
Trap The Mouse is a fun mouse trap game that many people enjoy. In this game, you have to predict the direction of the mouse to set the trap. Don't let the rat escape, capture it alive. If the mouse escapes, the game will be over and you will have to start over from somewhere. Let us know how good you are at catching mice. Good luck!
How To Play Trap The Mouse
Simply click on the area where you wish to set the trap.