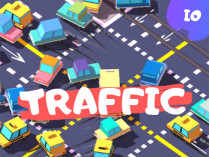 Traffic.io
Traffic.io is a fun and really challenging traffic control game in which your mission is to control traffic, avoiding vehicles crashing into each other. You will play the role of a police officer controlling traffic in the heart of the city. Cars pass by and the traffic system is crowded and congested. You will have to control traffic, control cars on the road safely and follow the rules to avoid accidents that cause traffic jams. All you have to do is touch the vehicles on the road to control traffic.
To control traffic as smoothly as desired, you must observe the surrounding traffic situation so that no mistakes occur. If you let an accident happen, your mission will fail. So please demonstrate to us the traffic control ability of a traffic policeman. How well will you control traffic? Good luck
There are also many other exciting games waiting for you to explore, such as Driver Highway, Wheel Race 3D,... Join today
How To Play Traffic.io
If playing on a computer, use a mouse.
If playing on a mobile phone: Touch the screen to play.