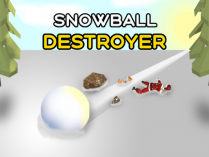 Snowball Destroyer
Snowball Destroyer is a fun Christmas themed snowball game. You will transform into a man dressed as Santa Claus, throwing snowballs towards the town. As soon as the snowball falls, your task is to control the path of the snowball so that the giant snowball crushes everything. Colorful items are things you can break, while gray items are invulnerable. Also, these gray items can break your snowballs if you attack them, so always maintain quick reflexes in case of color shifting. If you find it interesting, don't forget to join some of our Christmas related games! Wishing you a wonderful Christmas!
How To Play Snowball Destroyer
Hold down the left mouse button and adjust the direction of the ball.