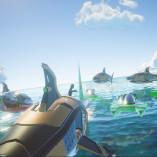 Shark Ships
Shark Ships is an intense, fast-paced racing game in which you control a strange boat shaped like a giant shark to participate in the most intense race. In this game, you will immediately participate in a boat race with professional racers from different countries. Your goal is to try to accelerate, dodging all the obstacles on the track, and finish first to win the competition. In front of you on the screen, you will see your ship made in the form of a shark, on which various weapons will be installed. When there is a signal, you will gradually increase your speed and swim forward along a certain route. Your competitors will do the same. Because of this, the route will turn into a solid battlefield. You will have to catch up with your opponent, and when in range, shoot to kill. By shooting accurately, you will destroy the enemy and get a certain number of points. After winning, you can use the bonus money to upgrade the boat and participate in the next race. Now join the game and become the champion in every boat race. Have fun playing this game.
How To Play Shark Ships
Use the arrow keys or the WASD keys to control the direction of the boat.
Press SPACEBAR for a special attack.