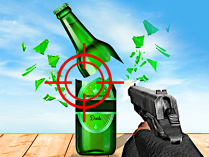 Real Bottle Shooter 3D
Real Bottle Shooter 3D is a fun game that allows players to present a time-limited shooting challenge that requires quick and accurate shooting. You must aim precisely with the glass bottles within the time limit. The game will end if the time limit is exceeded.
How To Play Real Bottle Shooter 3D
To fine-tune your aim, use the mouse. When you've got the focus just right, shoot by using the spacebar on your keyboard. Continue doing this until each glass bottle has been struck.