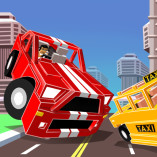 Pixel Crash 3D
Pixel Crash 3D is a challenging yet super fun car driving simulation game that will really test your driving skills on winding tracks. At the beginning of the game, you can choose your favorite car, and then there will be 3 modes for you to choose from: race, demolition, and city mode. In each mode, there will be different difficulty levels in each stage.
Race mode will take place on the highway, and your goal is to drive your car for as long as possible and safely. There will be obstacles and cars on your way; you should observe and dodge the obstacles safely. Don't let your car collide with other cars.
Demolition mode is the opposite of racing mode, and in this mode, you should destroy as many cars as possible in a limited amount of time.
In free driving mode, you can drive your car in a big city.
Join the game now and challenge yourself with three exciting racing modes. Join and become the best racer in the game. I hope you have fun!
How To Play Pixel Crash 3D
Use WASD keys or arrow keys to drive.
Press the spacebar to brake the car.