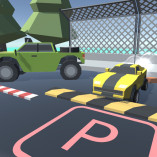 Park The Car
Park The Car is a very interesting combination of the driving and puzzle genres, in which you will try to park your car in more than 100 different levels. With this game, you will be practicing your driving and parking skills in the right place.
To drive the car to park at the specified place, you must observe and draw the road segments. However, in each level, the difficulty will increase; there will be many obstacles and different cars. You will have to dodge the obstacles and drive the cars to park in the marked area so that they do not crash into each other. If they collide with each other or with the obstacles around you, you will lose the game. So watch closely and skillfully drive the car to the right marked area to complete each level in the game. How many levels will you pass with this game? Join now and explore the limits of your best friend. I hope you have fun!
How To Play Park The Car
Use the mouse if you play on the computer.
Touch the screen if you play on a mobile device or iPad