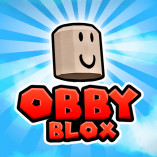 Obby Blox Parkour
Obby Blox Parkour is a game to overcome funny obstacles. Your challenge in this game is to control the character jumping through obstacles. You will jump from step to step so that it does not fall into the abyss and ends safely. If you fall, the game will end and you will have to start again. There are many levels in the game, from easy to difficult. How many levels you will exceed. Do not hesitate to join this fun game immediately. And do not forget to visit some of their other good and attractive games, such as Funny Shooter 2, Roblox Door, ... Let's play happily!
How To Play Obby Blox Parkour
Use the following keys to control the character in the game:
Use the WASD keys to move, press the way button to jump, press the arrow key, or roll the mouse to zoom out or zoom in.