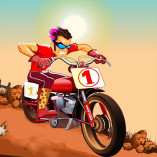 Moto Hill Bike Racing
Moto Hill Bike Racing is an extremely exciting motorcycle racing game in which you will drive your favorite motorcycle through challenging roads. The game will have a total of 24 levels, and in each level, the difficulty will increase with each stage. In each level, your goal is to drive safely and reach the finish line in the allotted time. On the track, you will encounter dangerous obstacles that force you to perform a series of dangerous acrobatics in the air. Therefore, be calm and skillfully pull the vehicle to overcome obstacles safely. Always keep in mind that you shouldn't let your motorcycle fall off the cliff or hit an obstacle on the track. Otherwise, you will fail and start the game again. Join the game now and prove your amazing driving skills to us. I wish you safe driving.
If this game has not satisfied you, you can join some other attractive motorcycle racing games such as Moto X3M Spooky Land, Traffic Rider,... Join today.
How To Play Moto Hill Bike Racing
You can use the left, right, up, and down arrow keys or WASD keys to drive the motocross bike through difficult hilly roads, completing each level in the game.