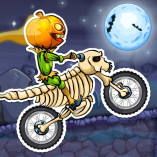 Moto X3M Spooky Land
Moto X3M Spooky Land is the new sequel in the Moto X3M series of games. In this part, you will drive on spooky roads full of adventure. With quirky and crazy racing tracks. You must firmly hold the steering wheel to overcome the dangerous roads. Any distraction from you makes the game stop. Drive safely, perform incredible jumps and somersaults, and avoid deadly traps. There are many levels in the game, the difficulty will increase higher and higher. How many levels will you pass in this game? Join the game now to challenge your limits! And don't forget to discover the next installments in the Moto X3M game series! I wish you a great experience.
How To Play Moto X3M Spooky Land
Use the following keys on your keyboard to control the game:
Press the WASD key or the up, down, left, and right arrow keys to control the car.