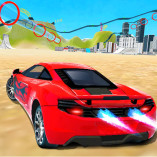 Mega City Racing
Mega City Racing is an extremely interesting racing game with many in-game modes that bring you the most realistic and exciting driving experiences ever. There will be 3 modes in this game: racing, challenge, and free driving. With each mode, your goals will be different.
Racing mode: You will participate in racing with other people, and your goal is to be the first to reach the finish line.
Challenge mode: With this mode, you can compete and challenge a friend or play against the computer. Your goal is to try to finish before your opponent and win.
Free driving mode: You will drive alone and enjoy performing stunts and facing amazing tracks. This mode is suitable for you to relax alone.
If you are excited enough to watch the game and drive your colorful and fun cars, get into the game! Join now and choose the appropriate driving mode for yourself. Have a little fun!
How To Play Mega City Racing
Player 1:
Use WASD keys to drive
Press SPACEBAR to brake.
Press the F key to nitro
Press R to respawn the car.
Player 2:
Use the arrow keys to drive.
Press the shift key to brake.
Press the K key to nitro
To respawn the car, press the U key.