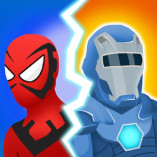 Hero Masters
Hero Masters is a fierce fighting action game with superhero characters using their superpowers to destroy invading aliens. You will play as a superhero who holds different superpowers, using them to destroy enemies. Defeat all the aliens invading the earth and become a real hero. You can completely upgrade your superhero by winning battles. In addition, you can buy new skins and upgrades in the game store. Join the game to defeat all the aliens and save the world from destruction. I hope you're happy!
How To Play Hero Masters
Use the mouse to move and shoot to destroy enemies.