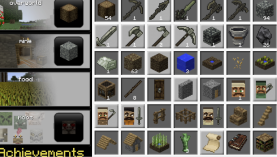 Grindcraft
Grindcraft is an extremely fun woodworking game. Your task in this game is to create tools and items yourself, collect for yourself many valuable items. On the right side of the screen you will see some tools and objects. To create utility objects, you must first have the basic resources. You can see which tools you need by hovering over the icons. On the left side of the screen, click on them to collect. Everything should be organized, especially the basics, as more complex tools need to be built. Get all the necessary items and plan how to make your stuff more advanced. You can also hire villagers first, which can help you work faster. You will earn new achievements when you discover and craft new items. What are you waiting for? Join now! Happy!
How To Play Grindcraft
One-button control, you just need to repeatedly click the left mouse button to play.