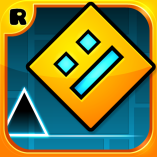 Geometry Jump
Geometry Jump is a game that puts your reaction time to the test. The game is a different version of Geometry Dash that will drive you insane. Your task is to enter the world of geometry and avoid any terrible obstacles that occur along the road. The game is divided into three levels. This game's three levels have tremendous obstacles. Now is the time to fly and flip!
How To Play Geometry Jump
To jump, tap the screen or click, and dodge any obstacles.