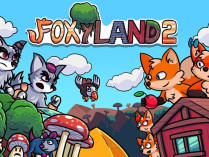 Foxy Land 2
Foxy Land 2 is the sequel to the very popular Foxy Land game. In this part, the wolves returned to the village and took away the little foxes. Foxy and his wife Jenny continue with the adventure and rescue their children from the evil wolves. This is a very arduous and dangerous journey that forces both of them to support each other to overcome it. Your task is to collect coins and find the exit on the game screen. The game has many levels; the next ones will be more difficult than the previous ones. So pass the challenges safely and proceed to the next levels. How many levels will you pass in this game? Let's challenge yourself with this game! I wish you fun!
How To Play Foxy Land 2
Use the following keys on the keyboard to play:
player 1:
player 2:
Up, down, left, right arrow keys to move

5 to shoot
Press Esc to pause the game.