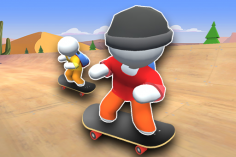 Flip Skater Idle
Join the exciting skateboarding race with Flip Skater Idle game. You will direct your athlete to participate in a skate race with other competitors. Your athlete will stand at the starting line with other competitors, waiting for the signal to start. When the starting signal sounds, you and the other competitors start the race. There will be obstacles along the way that you must navigate and overcome with skill. You will perform jumps on the skateboard to overcome these dangers. Along the way, you will have to collect gold coins and other useful items lying on the road. Look, do not be careful; accelerate past the opponent, finish first, and you will win. Do not hesitate to join this exciting game right away.
How To Play Flip Skater Idle
Use the A, D, or left and right arrow keys to control your athlete.