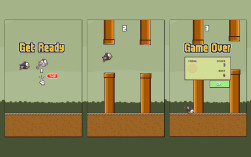 Flappy Bird 2
Flappy Bird 2 is the latest installment in the wildly popular Flappy Bird series. Your duty in this section is the same as it was in the previous section. To reach the finish line safely, you must still fly a bird over the obstacles (the orange chimney). The visuals in the game, on the other hand, are unique. The blue chimneys have gone orange, and your bird has turned black. Sharper pictures and more vibrant sound than ever before provide the greatest possible experience. Pay close attention to the bird and manipulate it to fly as far as possible. Keep in mind that any attention will lead the bird to crash into the ground and collide with obstructions. Focus and control the bird precisely! If you enjoy the game, don't forget to check out our other fascinating games! I wish you a good time!
How To Play Flappy Bird 2
You only need to click (on a computer) or touch the screen (on a phone) at the proper moment to get the bird to fly, avoid obstacles, and safely reach the finish line.