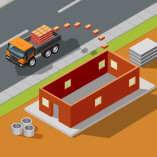 City Constructor Driver 3D
City Constructor Driver 3D is a driving simulation game that transports construction materials to a city where there are many modern vehicles. In this game, you will become a truck driver. Your task is to drive the truck into the warehouse and load the construction materials into the back. Then follow the arrow pointing to the construction site and unload materials to build high-rise buildings in the city. After you park the truck, the bricks will automatically connect to a building. You will not be limited in time, so you can experience and practice your driving skills. When you get used to transporting materials, you can speed up to complete construction work faster and unlock attractive gifts. Now is the time to start your transportation business.
There are also many other exciting racing games waiting for you to discover, such as Traffic Rider, Formula Rush,... Join now and don't miss out.
How To Play City Constructor Driver 3D
Use WASD keys to drive and click if you want to accelerate