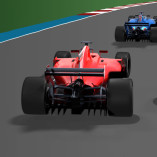 Formula Rush
Formula Rush is a speed racing game set in a city that never sleeps, with stunning graphics and thrilling gameplay that goes from surprise to surprise. In this game, you will participate in a fierce race, and the opponents will gather at the starting line. After giving the signal, all injured hands will accelerate past the opponent and try to finish first. Your goal is to finish at least third and cross the finish line after completing five laps to advance to the next tournament. Try to slow down a bit on the bends; you don't want to be thrown off the track. When running on grass, your speed will drop very quickly. You will be left behind by your opponents. So focus on watching the track and avoid going onto the roadside lawns. Your opponents are all seasoned riders, so any mistake you make will knock you out of the match. Try to control the speed and show your driving skills to beat the racers and win this fierce battle. I hope you have fun!
How To Play Formula Rush
Use the arrow keys to drive. Try to control the speed and accelerate at the right time to overcome the opponent and win the game.