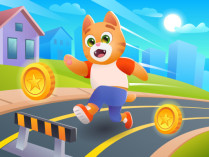 Cat Runner
Cat Runner is an endless game with fast speed. You will transform into a cat to chase the bandit and explore the endless world. On the road, remember to collect a lot of money and gifts to increase the number of points to help you capture robbery as quickly as possible. There are many obstacles that hinder your way, so observe and reflect quickly to avoid them. If not, you will encounter obstacles on the road, and the game will end. Try to run as quickly as possible and do not touch the obstacles. Do not hesitate to join the attractive game immediately. There is a happy time!
How To Play Cat Runner
You only need to control the cat by pressing the arrow keys on the keyboard.
Arrow key to dance
Arrow key down to slide
The name is left and right to avoid and move on the run