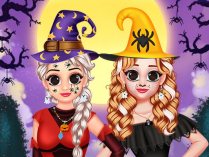 Bffs Hello Halloween
A game called "Bffs Hello Halloween" is meant to ring in the Halloween season. Do you enjoy Halloween costume-wearing? Your BFF invites you to a Halloween prom in "Buffs Hello Halloween". You must decide on your attire before attending the party. Your job in this game is to join in and assist the girls in selecting the ideal party attire. Playing this game will be fun, and it will be even more fun if you play it with friends!
How To Play Bffs Hello Halloween
You only need to use your left mouse to assist her in getting dressed. I hope you enjoy it.