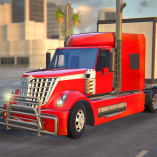 American Truck Car Driving
American Truck Car Driving is a popular and most loved truck driving game at the moment. If you are a truck driving enthusiast, then this is the game for you. The in-game equipment is completely designed in 3D, along with many other great upgrades, to give you the most realistic driving experience. Your task in this game is to drive a truck and try to transport goods to the right place. You will be able to drive different trucks and explore open roads. Follow the arrows to deliver the goods. Explore new places in the city and buy new upgrades for your track. You can upgrade your vehicle using the money earned from successful cargo deliveries.
When driving, pay attention to observe and use the driving skills you have to control the cargo truck to the destination safely and efficiently. On bumpy roads and difficult hills, you have to firmly grasp the steering wheel, pay attention to observe, and deftly pass. Prove to us how amazing your truck driving experience and skills are.
Now start your cargo truck driving journey to explore new roads and practice your driving skills. In addition, if you want to participate in many other driving simulation games, you can join some similar ones such as Traffic Racer, Police Car Armored,... join today
How To Play American Truck Car Driving
Use the arrow keys or the WASD keys to drive

Press SPACEBAR to Brake

Move the mouse to look around

Press C key to change camera

Press Q/E key to Turn on/off turn signal

Press G for Slow motion

Press Z for Emergency signal
Have fun and be safe while driving.