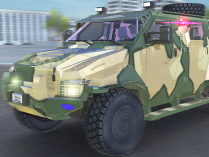 Police Car Armored
Police Car Armored is a fighting simulation game against criminals. Your mission is to drive an armored vehicle to fight crime in the city. You have to catch the criminals and take them to the police station to win attractive rewards. The game is designed with vivid, realistic 3D graphics to give you the best feeling when playing the game. What are you waiting for without immediately joining this exciting game.
How To Play Police Car Armored
Use the following keys on your keyboard to move:
To drive, use the WASD keys.

To use the handbrake, press SPACEBAR.

E/Q key to turn signals

Z-breaker key

Key I: Start or stop the engine

K is the key for high beam.

The L key corresponds to the dipped beam.

C key to change the camera view

B key to rotate the camera

To activate Nitro, press F.