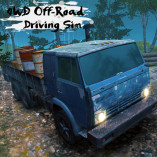 4WD Off-Road Driving Sim
Welcome to the exciting truck driving game 4WD Off-Road Driving Sim. This is a game that challenges your truck driving skills with six different types of trucks. You will have to drive different trucks. Explore hidden jungle paths, full of dangers. You will have to cross the road through muddy lands until you reach the green town with the orientation marker. Driving old trucks filled with goods through dense, foggy forests will be an extremely difficult challenge for you. Will you pass this challenge? Join now and prove your driving skills with us. Good luck.
There are also many thrilling racing games waiting for you to explore, such as Impossible Track Car Stunt, Dirt Bike Motocross,... Join and complete new challenges today.
How To Play 4WD Off-Road Driving Sim
You can use the WASD keys or arrow keys to drive and the spacebar to brake.