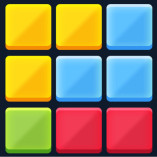 2020 Plus
2020 Plus is a fun, colorful block puzzle game. This is the latest game version of the most beloved classic block puzzle series. Your goal is to strategically place groups of three randomly generated blocks on the board so that they fill complete rows or columns. When you finish arranging three color blocks, three new color blocks with different shapes will appear on the right side of the screen, and you will stack them in the same way to fill the rows and columns to make them disappear. Each filled row and column will disappear, and you will get a corresponding score. To place them, click and drag them onto the board, and then drop them. Get the highest score possible. Join the game now and get yourself the highest score possible. Wish you have fun!
How To Play 2020 Plus
Use the left mouse button to stack the blocks.